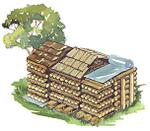 Dear DMC,
This ought to keep you busy:
"The Science of Stacking Firewood"
Jim Edwards
Sterling Heights, Minnesota
—————————-

Dear Jim,
This is excellent. It's got us thinking. It's given us a great idea.
Unlike all the other months of the year, we don't yet have an event of the month for November — like we have Raking Leaves for October, Listening to Corn Growing for July, etc.
We are seriously considering [dull men like to seriously consider things] Stacking Wood as our Event of the Month for November.
Stacking wood as our Event of the Month for November is good preparation for the upcoming cold winter months. (Dull men like to "be prepared" — many of us were Boy Scouts.) 
Many thanks,
DMC