The Ed Jeffers Barber Museum, located in Canal Winchester, Ohio.  It is easy to find . . . it is located above Zeke's Barber Shop and the Wigwam Restaurant on High Street. Canal Winchester is a port on the old Ohio and Erie Canal . . . is off U.S. 33 midway between Columbus and Lancaster.
A favorite activity of some dull men is going to a barber to watch hair being cut, shaving gel being applied, and other barbering activities.
Now we have found something to add to this interest . . . a museum that has recreated barber shops from bygone eras: 58 barber poles, over 500 shaving mugs and razors dating back to the 1700s.
The Barber Museum attracts international visitors and house the world's largest collection of razors.  A useful website explains the history of barbering from the dawn of time to the present time.
Note to dull men: This museum makes no mention of the barber's paradox.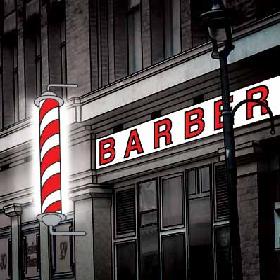 A Barber's Shop